Post by Karen on Sept 20, 2017 22:21:02 GMT -6
Originally posted May 2011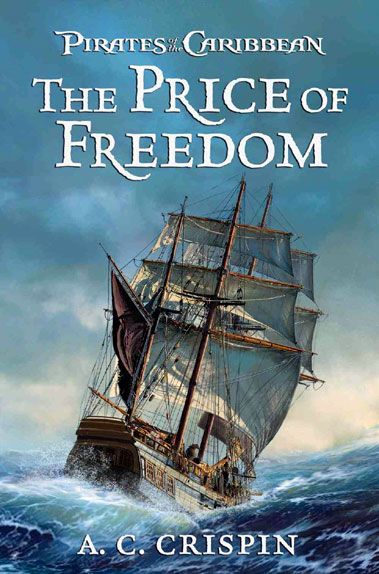 Cover images copyright DisneyPublishing
JDR was given the wonderful opportunity to visit with A.C. (Ann) Crispin about her newly released adult novel "Pirates of the Caribbean: The Price of Freedom."
JDR: Ann, we are getting pretty close to your book's release, are you getting excited?
AC: Oh yeah, I've been doing as much as I can in promotion, I've got people following my blog. You can visit my blog and see that I am giving away free collector's edition book plates. They are really nice. Disney paid for me to have book plates done and they are the back cover of the book with the skull and the ocean underneath it. They are 3 inches by 4 inches, a nice size and they are in full color! They just peal off and that way you can place the sticker part right on the page. This is a way for people to get a signed copy of the book, and get a nice book plate too.
Ann Crispin's homepage
Copyright A.C. Crispin, used with permission
JDR: Since we are talking about signed books, are you doing any book signings or appearances anywhere?
AC; Yes, and the info is on my calendar on my website, and it will be updated. First I'm going to be at Richmond, VA. on the 19th of May signing at Stories Comics. Then I will be there for the opening (of the movie) in Richmond at the Regal Commonweatlth IMAX and Stadium 20 Cinemas.They're having a BIG extravaganza for the opening of the new film. They're having a pre-film party at 10:30 that night and then we'll all troop in and watch the movie at 12:01am. And then the next day I'll be there in Richmond in the theater lobby on Friday from 6:30 PM until 10:00 PM.

Then, on Saturday, I'll be signing books from 12 noon until 10:00 PM. If you look on my appearace calendar on my website, you can see the Val-pak coupon that went out giving my schedule and a picture of "The Price of Freedom."

There's actually going to be a pirate ship on a trailer in the parking lot, and you can get your picture taken on it, and a display of parrots, re-enactors dressed as pirates. They're turning the lobby into a Pirates of the Caribbean-ville, where they've built a nine foot high skull that you can walk through. It's on an artificial beach with water and sand and I'll be right there in the lobby with my stand-up pf the cover of the book and I'll be there signing books. I'll be there signing on Friday and Saturday, or until the books sell out!

Then I'll be signing book at Book Expo America at 9:30 in the morning on Tuesday the 24th.



Image copyright Ann Crispin, used with permission


And I'll be going to Walt Disney World on May 26 and 27th, I wanted to sign at the Pirates of the Caribbean ride, but there's no place to set up. But the book will be there at the ride. I finally got to ride the ride now that it's been updated to include the Pirates of the Caribbean characters and that was a lot of fun! (Ann's calendar www.accrispin.com/shows.htm)
JDR: Is there anything that you can tell us that's not "out there"...that's not already on the net that would make us really want to read the books?
ACC: Actually in Pirates of the Caribbean there are one of two Disney "in" jokes, I'm sure people who know Disney noticed them, like when they were talking about a little mermaid jumped up on deck.
JDR: What can you tell us about a possible Peter Pan/ Capt, Hook connection?
AC: There was nod to Capt. Hook, who signs his notes "Jas. Hook" which is a short for James, and it's on the gamers' Pirates of the Caribbean Wikia. And they, the gamers, they know every detail!
JDR: I read in an interview where you were speaking about your Han Solo stories where you mentioned that you were not allowed to use any reference to the mysteries about his parents. So I have to ask, is there anything that Disney said you could not use..or conversely what you were free to use in your book's storyline?
AC: I wasn't allowed to write about Jack before he was aged 20, except in an indirect way. There are some references to him, where Jack thinks back to his earliest memory and at one point he remembers when he was a really little kid and they said, "how did you learn to swim so well?" and he said "the mermaids taught me" and how his earliest memory was climbing up the rigging of the ship when he was hardly more than a toddler.

In the early days I asked if I could say anything about Jack's mom and they said "no." I was used to that so it didn't bother me too much. I was told that I could go ahead and more or less, if I didn't come out and really state it, refer to Teague as Jack's dad. And there are a few references, for example, when Mistress Ching introduces him she says "and this is Jack Sparrow, Capt, Teague's uhh..." and she pauses for a second and says..."protege." And then Davy Jones at one point says "oh yes, you're of the blood of Captain Teague" and Jack says "yeah." So I was fairly open about it but not actually stating it.
JDR: I noticed that you are all over the place on the net, Depp sites, POTC sites, real pirate sites, etc., what group demands you, as a writer, to be the most detail oriented?
AC: The gamers' sites, they want every detail. They are very meticulous about everything. /

JDR: As we just mentioned, you are all over the place on the net about "The Price of Freedom." I googled you and you are everywhere! You are really marketing your own book! What kind of time committment is that for you?

AC: A lot. I should be well along on my next book, but I'm not.

JDR: Do you keep a list of everyplace you need to check in with?

AC: Basically I just google myself, so I can go in someplace and update it. The last excerpt will just prior to the book release, and it's the full excerpt of "Jack takes a bath" and as a result is a lot more serious than the light-hearted short exclusive I gave. After Jack has that memorable meal he's talking to them and it presages the slavery issue a little bit because he's worried that they'll want him to haul slaves and then he finds out it's just hauling building materials to the boss man's house, and he's happy about that. Then later he walks down the hill and he thinks "you know, being gentry, they really eat very well, but they don't have any fun." Then he thinks that maybe I could save my money, maybe I could buy the Wicked Wench because he loves her so much.

And just for fun, I put in a bonus excerpt. It's the first swordfight in the book. It's short.

JDR: Where you enamored with Capt. Jack when you started this?

AC: No, not really. I saw the first film, I went to see it by myself because Michael, my husband said "Pirates? I don't think so," and I was like, what a great movie, I want to see it again! And I dragged him off to see it and he was like, "that really was fun." I liked the first film so much and then I went to see the second film and it just didn't measure up to the first one. But still I liked Jack and his role in it. Then this prequel assignment came along, and I was like, I can do that, yeah I could!

So I agreed to do it, and I had a lot of fun with Jack. I've become much more of a Johnny Depp fan than I was when I first signed on to do the (book)... I'd seen him, of course, in movies like "What's Eating Gilbert Grape" and "Blow" and the Jack the Ripper one, "From Hell" and I saw him in "The Ninth Gate" and Edward Scissorhands. I saw quite a few of his films, but not all of them. And I still haven't seen all of them.

JDR: If I'm correct, this book will be your 24rd published novel. How is this 24th book different from the other 23 before it?

AC: Well, this one is by far, the longest book I ever wrote, It took me ten times as long to research it. I'd written in that period before for a young adult book that I may now have sold. It kind of kicked around for a while. Actually its a middle grade reader and it's set in the Revolutionary War. So I had some familiarity with the 18th century and I'm actually a buff on the American Revolution. I did a lot of studying about it, things didn't change all that fast then. I had to research individual things, and there wasn't a single scene in the book where I didn't have to stop and look something up -- except the one where Jack goes to the livery stable to hire the horse.

But my orders from Disney were, where it doesn't conflict with pirates continuity, be historically and nautically accurate.

JDR: Will you be writing another story for Disney?

AC: I have no idea. I don't think that Disney has any plans at the moment. I'm sure they're waiting to see how this book sells.

JDR: Do you know how Disney will market this, age wise?

AC: This is definitely a book for at least young adult through adults, it's not a children's book at all. I wouldn't give it to a ten or twelve year old. It's got a fair amount of bad language (British style), quite a bit of violence, and it has some bedroom scenes. Not a children's book.

JDR: Do you think they were going for a broad reader audience when they put the ship on the cover?

AC: I hope that maybe people who have enjoyed the films,or fans of the (Patrick) O'Brien books for example or the "Hornblower" books will see the ship and like that.

JDR: Did you work with any of the other Disney "pirate" authors?

AC: No, they have me this enormous volume of Pirates mythology, there's a lot of repetition in it, there's also a lot of material, there's hundreds of pages, it covers all three movies and it covers all of the characters, down to the level of secondary characters like Murtogg and Mullroy, Pintel and Ragetti...it doesn't really give any real major detail about them, like if a character's name wasn't given they didn't make one up. I was responsible for all the Pirates mythology in that book.

I did get to make up some names, though. I got to name Ian Mercer, give him a first name, because he's safely dead. And I do refer to Teague as "Edward Teague" which I was told was his name. He's listed on the cast list for "On Stranger Tides" as Edward Teague. So Don Raphael, the Pirate Lord of the Caribbean calls him Edouardo. And Jack has a troubled relationship with Teague in this book, the two of them were not buddies at all during that time of Jack's life. I had to have that kind of conflict, a reason for Jack to do things, so he was undergoing a somewhat late adolescent rebellion. It's obvious he's afraid of Teague even as an adult, and more so when he was a youngster. Teague was Jack's Captain, for one thing, he sailed with him in my book. I really like the name I came up with for Teague's ship which was Troubadour. Teague play his guitar in the book.

JDR: You're so good with coming up great names, I enjoyed the name Esmerelda. You came up with names that weren't necessarily modern names, but that fit the locale or the background of the character. Did you google old fashioned names?

AC: I got my husband to help me look up Spanish names for Esmerelda's name and I thought of Conchita and a whole bunch of names, but I wanted something with some gravitas and Esmerelda seemed like a good name. It also means "emerald"...a gem. The idea of gems is pervasive through the book. Of course you have a whole string of names and Ana Maria is always in there, I think I named her DeSevilla figuring that's where her grandfather's ancestral lands were from, he was actually a "Don" in the New World and he was a nobleman. He probably had been in Spain too.

Esmerelda's actually part Aztec and that's one of the places that Jack finds out a little bit about the Treasure of Cortez. She actually has the pirate medallion tattooed on her right hip, and there was some doubt as to whether or not we could leave it there, we thought it maybe would be moved to a spot he could see with her clothes on. Eventually it was OK, there are two people in bed, of course he's going to see it, at first he thinks it's a bruise, then he looks and sees it's a tattoo. That's when she reveals a little something about the Treasure of Cortez, because I was setting up so if there was another book, I'd have something I could do about the Treasure of Cortez and her knowing a little bit about that. Although Jack, in my story doesn't have any tats at the beginning. But by the end, he gets his first.

JDR: Jack hasn't been branded a pirate yet has he?

AC: Well, not in the first half.

JDR: Depp's an avid reader, do you think Depp would, or will read your book?

AC: As far as I know, some of the studio liaison people at Disney are aware the book exists. I think Mr. Depp may know of it, but do I think he'll read it? He's a busy man. Who knows?

AC: Some people that I've written about actually read what I wrote. Several members of the "Star Trek" cast read "Yesterday's Son" ( www.amazon.com/Star-Trek-Original-Y...5583435&sr=1-1) and possibly some of my other of my other Star Trek books, it was the first Star Trek book that wasn't a movie tie-in to get on the (New York) Time's list. I know for a fact that Nichelle Nichols and George Takei and Jimmy Doohan and I think DeForest Kelley all read that book because they told me so.

JDR: Isn't that wonderful for an author! To know that the people behind the characters care about what you're doing with the character!

AC: DeForest Kelley was one of the big three and so I was incredibly chuffed, he said "Oh I've heard about that book." Then later on, he said, "Yes, I read that book, I really did enjoy your portrayal of Dr. McCoy." I said "Well I gave Bones all the best lines" and he said " Well, that's only right."


JDR: I understand that are going to be at the big Sci-Fi/Fantasy Renovation convention, what capacity will you be attending?

AC: I'll be a guest, I wrote to them about doing some Pirates programming and I hope that Tim and I get put on some panels together to do some Pirate programming. Disney is sending me, so I'll be there primarily to promote the Pirates book. And I'll also be at DragonCon www.accrispin.com/shows.htm


JDR: I've got one more question for you, you've been very generous with your time, and I thank you. What are you working on now?

AC: I'm starting a new book. It's a young adult, and it's science fiction, I've missed writing s.f. and young adult science fiction is kind of hot right now. "The Price of Freedom" took me about fifteen, sixteen months to write, but it's twice as long as the others.

JDR: We thank Ann Crispin for her time visiting with us and we look forward to discussing her new Pirates of the Caribbean book: "The Price of Freedom."


Here's a list of some links to Ann's site, blog, FaceBook page, Twitter etc.

www.accrispin.com/ (Official site)

accrispin.wordpress.com/ (ACCess blog)

www.accrispin.com/projectp.htm (More about the book)

www.accrispin.com/shows.htm (calendar)

www.accrispin.com/news.htm (News)

twitter.com/#!/anncrispin

www.facebook.com/people/Ann-Crispin/841845439