Post by Karen on Sept 20, 2017 21:57:18 GMT -6
First published May, 2009
JDR Talked to PUBLIC ENEMIES' Christian Stolte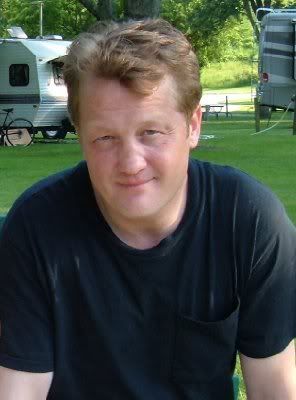 Mr. Stolte's image from his imdb page
JDR had the extreme pleasure of visiting with PUBLIC ENEMIES' Christian Stolte who portrays Dillinger gang member Charles Makley. Makley was one of the group John Dillinger liberated from Indiana State Prison in May of 1933. We thank Mr. Stolte for giving us so much of his time. He's sharp, wickedly funny and very open in his answers to us. Here's what we asked and what he had to say to us.
click
photo provided by Mr. Stolte.
JDR: According to the info on imdb, you've been acting for about 17 years, both TV and films. Why acting? What is the motivation for you, what made you want to be an actor?
CS: That question, reasonable as it is, leaves me stumbling for an answer. I think I assume that "being an actor" is somewhere on everybody's list of "dream careers". That's probably not the case, but it tells you something about how fundamental the drive is for me. I grew up in St. Louis, and did not know anyone who worked in the industry, so I wan't exactly formulating a master plan to break into show business. I didn't even think it was possible. But growing up, I always paid a lot of attention to movies. I didn't differentiate much between "quality" and "trash"; I was just happy to be sitting in a movie theater. And my parents took us kids, indiscriminately, to most of the movies they saw, heedless of the rating or the "adult content". I was introduced to some extreme aspects of human behavior through the movies, and at a relatively young age. This in itself was compelling. The movies were a place you could see these things that life would not otherwise present to a child.
And like a lot of kids, my friends and I would re-enact our favorite scenes, and for a good year and a half, I was in fact Butch Cassidy. Every couple years or so I was James Bond, and in the woods behind our house, in the wintertime, I was Jeremiah Johnson, and Tarzan in the summer.
JDR: You've played police officers and now a bank robber in "Public Enemies". Which is more fun? Playing cops? Or playing robbers?
CS: I don't really have a preference, as either one can be rewarding if it's a developed character. The reality, though, is that most of the "cops" I've played have been one-dimensional functionary characters, without interesting flaws, motivations or contradictions. Whereas "bad guys" almost always give you something to work with, in that there is typically an anti-social component in which to ground yourself.
farm4.static.flickr.com/3288/241555...9511ac1.jpg?v=0
JDR: I understand that you had a camera with you on location with "Public Enemies" and took photos of the "fans" while you were filming. Is photography a hobby?
CS: I don't mind referring to it as a "hobby", as long as it's clear that I know practically nothing about it. I did get some good shots during my time on "Public Enemies". Plenty of shots of the crowds, which seemed fair game to me, as I was "firing back at armed civilians". But also shots of the beautiful sets, and my fellow actors, and some of the cool cars and guns and clothes.
JDR: How did you get cast as Charles Makley?
CS: I was all over the map on this one, at various stages. I won't be specific, but I read for at least four other characters before getting the call that I was booked as Makley. At the time I was ambivalent; some of the other characters I was considered for had, let's say, a more memorable presence in the film. But Makley was a blessing, putting me in the constant company of David Wenham, and Stephen Dorff, and Jason Clarke, and Johnny Depp, guys I grew very fond of over the months of shooting. I was disappointed, frankly, that Makley didn't make it to Little Bohemia (locked up in an Ohio prison with Pierpont at the time), but the company of those aforementioned exceptionally cool cats is something I would not have traded for a month of shoot-em-up mayhem at Little Bo. Makley was also a lucky draw in that the role kept me employed from mid-February 'til the last day of shooting at the end of June. Three weeks of rehearsal meant shooting Tommy guns with the gang at a police firing range, "hostage rehearsals", bank robbery training at an actual bank, shoot-out simulations at FBI headquarters. The adolescent in me was in a constant state of gangster euphoria.
Incidentally, I had worked (briefly) on another Michael Mann film, "Ali". I was the cop in Miami in the opening montage, who pulls up behind Ali as he's jogging on the causeway and hollers out the window at him. And in truth, Michael Mann was one of the first directors I ever really paid attention to. As a teenager, Mann's film "Thief" (with James Caan) was a huge cinematic landmark for me. I loved that movie; my buddies and I tossed around quotes from "Thief" like most other guys did with "Caddyshack". I then discovered Mann had directed another film, "The Jericho Mile", that had made a strong impression on me as well. As I came to understand the significance of the director in the making of a film, I realized that Mann was certainly one I should keep my eye on. If you had told me I'd make a gangster movie with him one day, it would have been more than I could have processed.
JDR: Playing a historical figure must have its good and bad points. What did you do to prepare for the role?
CS: You have to bear in mind, in a film with this many significant historical characters, the personal history of Charles Makley was not a priority in the story-telling. There was just too much other ground to cover. I did some research on him, and found him interesting (confessing some bias), but also found contradicting accounts of his life, and no clear authority on the subject. I focused more on the mindset of the rogue American male of that era, and what qualities make a man fit comfortably with this kind of dubious company.
JDR: The fan base there on location was amazing. What went through your mind when you saw them waiting for you all, day after day?
farm3.static.flickr.com/2059/242403...bec5bb1.jpg?v=0
CS: Lets be clear about this: I am in no way under the delusional impression that anyone was waiting anywhere to see me. The crowds were energetic, and enthusiastic, and seemed to appreciate anybody from the production coming over to talk to them, which I did a few times. They were always friendly, and talking to them was a welcome break in the stretches of tedium that came during the hours and hours of downtime. They were gracious and kind to me, without exception.
And they loved their Johnny, that much is clear. Good golly. I love the guy, too. And I admired his willingness to subject himself to the crushing waves of adoration. Being that beloved has to take a toll on you; the repetition of it all must be exhausting. And I can say with certainty that his habit of meeting-and-greeting the crowds was in no way motivated by his ego, but by a sense of duty to the people that have helped put him at the top of the entertainment pyramid.
Johnny was unbelievably generous to me, every step of the way. Here's a story: We were in Wisconsin, shooting our exit from a bank robbery. My older daughter was with me, watching the shot from a safe distance. We would bust out of the bank with our hostages, climb in the car, then drive off. And we had a walkie in the car, and we'd hear them say "cut", and -- the car being ridiculously crowded -- we would then pile out and walk back the block or two to the bank, with deafening calls of "I love you, Johnny!" and so on from the assembled crowds. There had been a blocking issue, loading into the car, that Johnny tried to resolve for me, and as we walked back, he asked "How was that, was that better?" I said "That was great, thank you." Then I ventured this gamble: "Hey you really want to do me a favor? You see that little blonde girl standing by herself over there? Could you wave to her?" And, being Johnny, he said "Is that your daughter? Bring her over here, I want to meet her." I waved her over, and she came running out onto the fake-cobblestone street, with hundreds of fans wondering who this lucky kid could possibly be, and Johnny greeted her so sweetly she looked like she could burst. I took a picture of the two of them, which made her the envy of all her friends. I wager she will never forget that day. This is a single example of the many kindnesses he saw fit to bestow upon me. This one may seem like no big deal, except that he handed me the opportunity to be quite the hero to my girl. And there were many, many other times when I was humbled by his generosity and his efforts to include me. I owe the man a debt that I can't fathom how I'd repay.
I was always a fan of Johnny's work. There's always been something kind of magical about him. It's still somewhat unreal to me that I got to work with him and get to know him a little.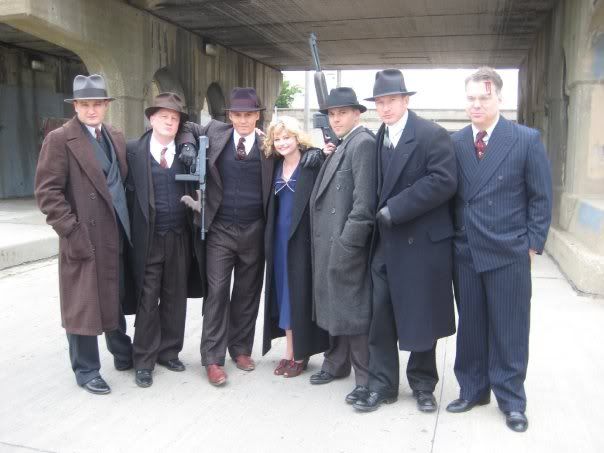 Source unknown
JDR: Would you mind sharing a bit about your personal life? Married, single, in a relationship? Kids?? That sort of thing.
CS: I am married with two daughters, ages 14 and 6. My wife is a hand model, and my daughters are currently unemployed. They are exceptional kids -- cute, funny, charming, willful and sarcastic. My wife and I truly enjoy their company, and rarely go anywhere without them.
JDR: I've read some of your Facebook entries and I think you have a wickedly wonderful sense of humor! And a great sense of word style and flow, have you ever considered writing?
CS: Thank you, I say with some measure of embarrassment. Facebook, which seemed like the last thing I would ever voluntarily take part in, has become a curious fixture in my life. I've been out of town for most of this year, away from my family, and have spent more time on Facebook than I am comfortable admitting.
I have, in fact, done some writing, and plan to do more in the future. I'll leave it at that. Your compliment is appreciated.
JDR: Can you give us some adjectives about the process of making "Public Enemies"? (Chris, I'm wanting to keep this as generic as I can for you, as I know you want to stay within the boundaries that Universal wants, so random words (like amazing or hectic would work.)
CS: I would have to make up some adjectives to adequately describe my experiences on this film. It was "ensquijilating". It was "deshmulfifying". Every day on set was infused with some sense of "mission", a bold, dauntless energy declaring "here is the nearly-impossible thing we are going to accomplish today".
Sometimes I am in a moment and I say to myself, "This will be worth remembering." There were a few such moments on this film, but I will tell you one. We were near the end of a day that was thirteen hours on the clock for me, considerably more for Mr. Mann and his crew. We were getting a shot where the Dillinger gang was clambering down a wooded hill after a bank robbery, hauling our weapons and our stolen cash to a getaway car we had stashed on a dirt road. Over and over again, down the hill, "back to 'one'", up the hill, down the hill again. Little adjustments were made, "Makley, you're coming too close to Van Meter, spread out a little"; it's hard to be consistent or precise coming down a steep wooded hill. And of course, we were losing daylight. Then finally, Michael got a take he loved, called out "Great! There it is, that's my 'Magnificent Seven' shot!", and we wrapped for the day. We all ended up in the car at the end of each take (I think it was a Nash, but I won't swear to it), and Jason Clarke, our consummate getaway driver, asked Michael, "How about I just drive this back to base?" Michael looked around, shrugged, said "Yeah, alright", and climbed on the running board. First AD Bob Wagner hopped on the running board across from him, and two other crew guys whose faces I never saw climbed on as well,behind Michael and Bob. And Jason pulled down the dirt road, and onto the rural highway, and the sun was setting, and I sat in a vintage car in vintage clothing with vintage Tommy guns, with Jason Clarke and Johnny Depp and Stephen Dorff and David Wenham, with legendary director Michael Mann and three of his crew standing on the running boards holding on through the open windows like windsurfers, and I thought, "This will be worth remembering". It was an overwhelming feeling of how lucky I was just to be there.
And besides Michael Mann, and the actors I've already mentioned, there were many other people I felt privileged to work with. Colleen Atwood, who is so kind and generous and lovely that you have to remind yourself that she has won two Oscars, and has a resume that hits you like a tidal wave. In fact, every department I had routine business with -- Wardrobe, Hair/Make-up, Props, Camera crew, the A.D.s -- were all exceptionally agreeable people to work with. Which is amazing, considering the hours they were working. I realize I can't go down this road of naming names, because I would inevitably leave too many significant people out, but some people I didn't necessarily have scenes with, with whom I nonetheless got to spend a little time: Giovanni Rabisi was smart and funny and loaned me twenty bucks at the Green Mill Lounge when I arrived in costume and didn't have my wallet with me; Branka Katic was, honestly, one of the most charming women I've ever met; Diana Krall I believe I had convinced to go up and do a "special guest" number with the jazz band at the Green Mill, 'til unfortunately, she was called on to set at the critical moment. And I had enough of a conversation with Marion Cotillard at the wrap party in L.A. to say that I liked her quite a lot.
JDR: What's up next for you?
CS: Since "Public Enemies" wrapped, I shot an episode of Patrick Swayze's series "The Beast", and I I've wrapped "Law Abiding Citizen" a film shot in Philadelphia, it's
directed by F. Gary Gray, who is fantastic. I'm grateful to every director who gives me a job, but I have giant-size love for this man. He gives some of the clearest, most relevant direction I've ever had. He gets up-close and intimate, puts his voice inside your head as he tells you what he wants, then makes you feel like a champ when you give him what he asks for. And I've grown to trust his BS detector. If he's not buying it, it's probably false. That's a very helpful barometer to have on-set.
"Law Abiding Citizen" stars Jamie Foxx and Gerard Butler. Great actors, great guys to be around. Smart, funny, and charming -- that goes for both of them. I play an unbelievable nasty bastard in this movie, and it is not for the faint-of-heart or weak-of-stomach. My children will not see this one. Ever, if I can help it.
And I have just begun work on the remake of "A Nightmare on Elm Street" I play Jesse's father, one of the parents who kill Freddy.
JDR: Thanks so much for sharing all of this with us, we are looking forward to seeing you as Makley in "Public Enemies" and will also watch for "Law Abiding Citizen" (http://www.imdb.com/title/tt1197624/) and since we know "Nightmare on Elm Street" from the original with Johnny, we'll be looking forward to seeing your remake!

CS: Thanks for your questions. It's been a pleasure looking back on this experience.
copyright © 2017 JohnnyDeppReads.com.
To share please linkback, do not reprint or repost without written permission