Post by Karen on Sept 19, 2017 18:00:34 GMT -6
I've been saving this interview for Oscar Day! In honor of AWE's Oscar nominations!
We are grateful to Rob Kidd and the Disney Press marketing staff who kindly arranged this interview right before Christmas. I was able to sit down and visit with Mr. Kidd, who was very generous with his time and I really appreciate his openess to our questions.
Rob signing our book for a giveaway! Thanks to our CaptainJackSparrow for going to the book fest and getting our book signed by Rob!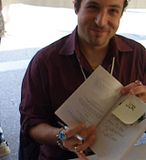 Pic owned by captainjacksparrow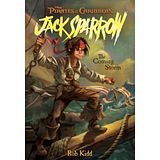 JDR: I'd like to thank you Rob, for signing those books for us while you were down in Austin, we really appreciate it!
RK: It was great fun!
JDR: I understand that you are not a Disney Imagineer, so how did you get connected with this great book series?
RK: I actually work with Disney Publishing I'm an executive editor with Disney Press. Right before "Dead Man's Chest" came out we decided we wanted to publish books in Jack Sparrow's world, do a universe expansion type of thing. We took it in all kinds of places we were should we tell contemporary stories and there was a time when we thought about telling stories as Jack Sparrow as a really young kid-- an eight year old or so and there's some of that in the most recent book when he meets up with Keith and they go back and visit so his early youth. But we decided that that was too young and we wanted out readership to be a little bit older so where we ended up was with him as a teenager and he would still live in the world that he exists in the films. The other thing that this helped us to do is that we were working really closely with the studio, it helped us stay away from where they were going with the films. Because we didn't want to give away anything that would happen in "Dead Man's Chest" or "At World's End" came out and we also didn't want to do something in the books that would contradict the films so we didn't want to write about anything in 'At World's End" that would prove to be false. So we were looking for authors-kind of going crazy trying to do it and it was getting so complicated because there was a lot of liaisons with the studio and everything had to be kept under wraps (he laughs here) –don't want to let too many people in, that we decided that we'd just write it here.
JDR: That's certainly an economical way to get it done…sort of keeps it all in the house. (More laughs)
RK: It was a great group effort with lots of people sharing their input. It wound up really working out well for us.
JDR: It's a wonderful series! And it's a very entertaining series. To paraphrase Capt. Barbossa from the first POTC, those were some might long words you used in the books and we're not but humble pirates. Are you looking to attract an older kid audience that way?
RK: It's funny that you should quote that line from the film because that's part of where we pulled that aspect of the series, from when you watched the films, there is this play on a lot of big words…wanting to acquiesce Jack using egregious and so we thought that was really part of the world of the films and it served the dual purpose of being able to make this a series worth reading where you can get into a classroom and kids'll be hooked because they really like Jack and they like the stories and at the same time they're introduced to some more complicated words. I think hopefully if I did my job right it will allow them to feel less intimidated when they read works of literature, classics, stuff that they are being assigned in school.
JDR: I think that's great, anything that gets kids reading a book and in turn gets them to a dictionary is good! You talked about being on the set, were you able to work with screenwriters Ted and Terry?
RK: I spoke with Ted and Terry at one point, but we didn't work directly with them, but the way that we worked with Ted and Terry is that we have a contact ("we" meaning Disney Publishing) at the studio and then they deal directly with Ted and Terry and everybody else on the production team. So whenever we had a question about storyline, wanting to make sure that we weren't going somewhere that might conflict with a screenplay, we would go to the studio, and the studio would go to Ted and Terry and clear everything. It just made it easier as we had tons of questions for them and also for the partners, like the toy group and things like apparel so that everybody was on board with POTC and the Walt Disney Company, so they would take all the questions to them at once and then they would get back to us.
JDR: Did you actually get on the set?
RK: Yeah, I was on the set a number of times less for the Jack Sparrow series because I was also working on the tie-ins. So we really needed to see what the sets looked like and how they operated, if you are going to describe a scene, it really helps to be there and watch it being shot. So that really helped a lot on that end, of course it also brought me into the world of Pirates which inspires the book.
JDR: You just mentioned tie-ins? Can you tell us what those are?
RK: I meant the books that come directly from the films, we did a few storybooks and the junior novelisation and stuff like that. I didn't write those but I was editorial on them.
JDR: OK Rob, you've left your readers hanging here on #9 and I understand we have #10 – 11 -12 to come. When can we expect #10 and also when can we expect the series to wrap up?
RK: Book #10,"The Sins of the Father" is due out Dec 18. (Update, it is available now!)
JDR: And the wrap up for the series will come when?
RK: The 11th book "Poseidon's Peak" is scheduled out in April and then #12 is following on the heels of #11, probably July.
JDR: So when #12 ends, there will be a gap of Jack's life between book #12 and POTC:COTBP. Will there be any fill in there for us?
RK: Yeah the plans are to try and fill in all of that time with different formats, the Jack Sparrow books are chapter books, they are geared for eight to twelve year olds, but we made a very conscious effort to make sure that they crossed over the way that comic books cross over, where a kid could read it and enjoy it but then there's also a huge adult fan audience. As we move forward we'll be taking different aspects of the timeline of Pirates of the Caribbean films and applying them to a certain readership so next up is a series of books called "The Legends of the Brethren Court" which I will be editing and will be written by a great writer called T. T. Sutherland, who did the adaptations for "At World's End" and that's going to be a six book series and it's basically going to examine the lives of the Pirate Lords and that will launch August of 2008 and those books will be a little bit longer, they'll be probably for (ages) twelve and up, where as Jack was for eight to twelve and of course adults will hopefully enjoy them as well. And then we also will be going back and revisiting the whole crew of the Barnacle, with a tentative title of "Young Pirates of the Caribbean" a younger Jack will be in them, but it will give us the opportunity to visit more with some of the other characters like Arabella and Jean and Tumen and Constance and the others from the Jack Sparrow series.
JDR: You managed to tie in a lot of things in the series from the movies. Like Jack's paprika, the pirate skeletons from the ride, the upside down boat thing, etc..was that a specific idea that Disney wanted included or was that you?
RK: (laughs) No that was me. When we first started thinking about the series, when I was out in LA and went down to Disneyland and I took a boat ride through the POTC and with an Imagineer and they took me through first with all of the lights on so I could see and really point out all of the details (of the ride) and then we went through with the lights off, I was looking for things that could be folded into the books, like they did in the film with the dog and the keys,. things that people who were fans of the ride would appreciate. What we wanted to so was make sure it felt like a cohesive whole in that whether it's a book or the ride or a movie there are common elements that tie them all together so when you see stuff like that, it's done for a reason and I'm glad that you caught on to that upside boat … it kind of got stuck into the book.
JDR: About the timing of the books' releases, you had to be careful about releasing the new characters and release of the movies so as not to give anything away plotwise?
RK: Yes, and then things like Tia Dalma got pretty tricky as she was introduced in the second film but it's revealed in the third film that she's Calypso so we kind of had that fore sight, that was this weird balance like now it's OK we can write her into the books, but at the same time we have to be careful, there are things about her that people can't know about. So it was a little bit tricky there for a while.
JDR: I am a history buff and I noticed that your books contained a lot of historical references, is that you again, trying to educate kids?
RK: That's exactly what that's all about, when we just felt like this was a really good opportunity to get kids excited about things that they might otherwise not be excited about. The hope was that maybe if they are reading something about Montezuma that maybe they would then think to themselves that Montezuma or Cortez really existed, if they hear about them in school they'll make that connection and say I read this Jack Sparrow book and he was in there too and it just might make things that they are supposed to be doing, things that they are doing in school…it might make them more exciting and in addition to that especially with Cortez, there's that connection with the gold of Cortez in the films. There's always a historical conflict going on simultaneously with the supernatural conflict in all of the Pirates films and so we wanted to make sure that they were also grounded in the real world and in history to some degree to remind readers that this isn't a separate world all together, it's our world and the conflict between the new world and the old world and the natural and the super natural and all that kind of stuff. The primary reason was to help prevent kids from thinking that history and big vocabulary words weren't cool.
JDR: Do you know if Johnny's kids have read or seen your books?
RK: I hope they have and that they like them, but I don't know.
JDR: When the entire series has been published, can we speak again?
RK: Absolutely, that way we can talk about the follow up series, too!