Post by Karen on Sept 19, 2017 17:48:59 GMT -6
JDR had the distinct pleasure in being able to sit down with actor Keith Buterbaugh who is presently portraying the despicable Judge Turpin in the National Touring Company of SWEENEY TODD.
I thought it might be nice to be able to visit with a musical actor who could help us understand a bit of Mr. Sondheim's music and a bit about the musical SWEENEY TODD. Mr. Buterbaugh is an original cast member of last year's Tony Award winning Sondheim musical COMPANY. He was most generous with his time and we thank him and the National Tour for granting us permission for this interview.

JDR: Mr. Buterbaugh, I've read your biography on the ST site, this is your third Sondheim musical. First was Passion and then Company and now Sweeney Todd, is that correct?
KB: Right.
JDR: Can you tell us a bit about who you played in Passion and what the character was like?
KB: I played Giorgio, he's a young soldier, who gets caught between two kinds or types of love and his exploration of what real love is. Giorgio is in love and having an affair with Clara, and then finds himself in love with Fosca, who no body could imagine being involved with. Its two types of relationships.
JDR: So is he the good guy or bad guy?
KB: I guess you would call him the good guy.
JDR: So he's just caught in a bad situation?

KB: Right, there's really no bad guy. Maybe someone may argue that Fosca is the bad person in Passion. But she's actually the character who brings truth to the play.
JDR: OK let's change plays, in COMPANY (which won the Tony), you played Harry! Harry's an interesting fella. With COMPANY you have a mix of musical genre; you've got a "musical" that's made up of "revues" that are strung together with a through story line. Is that an accurate description?
KB: Yes. COMPANY started out as a series of short stories or vignettes, actually five or six vignettes that were character driven and in order to put them into a coherent book form they were basically all brought together by the Central character of Bobby, who was experiencing each of these five vignettes in different places and circumstances.
www.broadway.com//gen/pop_video.aspx?ci=541299
(Video with Keith and Sweeney Todd and Company director John Doyle talking about Sondheim's Company)
JDR: COMPANY is a bit of a different vehicle, looking at what SS has written, all of his works haven't been dark. Many have been funny! FUNNY THING HAPPENED ON THE WAY TO THE FORUM.
KB: Yes! Very funny and clever, incredibly clever. He has a great sense of humor. Look at his take on life! After meeting the man and having spent a little bit of time with him he's obviously highly intelligent…and he has a great sense of humor…really great! He finds some of the greatest humor in the darkest situations, I mean look at SWEENEY TODD! Even in COMPANY- the humor of some of the vignettes between couples.
JDR: So you've done three Sondheim musicals, most of your characters can be characterized as good guys most of the time.

KB: Then there's Judge Turpin, he is the antagonist of the show. But he thinks he's doing the right thing, the moral thing.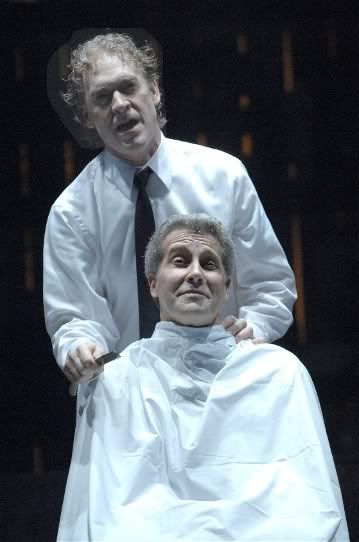 Photo by David Allen
JDR: About Judge Turpin. When you look at the play and the characters, Judge Turpin should be the sanest of the lot. He's a man of power and supposedly someone in a well respected position in the community. But he is the sickest twist in the lot. How do you get into a character such as that every day?
KB: John Doyle's direction helped a lot with that because of John's take on it. When you look at previous interpretations of the show, the Judge is most commonly portrayed as this well respected guy, and immediately they go with this dark side of him, but what's the real side of him? Not the side that he presents to the world or the outside. A lot of actors tend to go immediately to what he really is. So to answer your question, how do I approach that? (Director) John Doyle's approach on that was that he always felt, and I find this fascinating - that the Judge Turpin character should "seem" to be the nicest the nicest guy in the world. And he should be cast that way, as this nice John Kennedy-ish type character when you see him on stage and first hear him, you should think "Oh my God ..we should make this man the President. WOW! This is the guy who pulls up next to in his Beemer and waves you a smile and shakes your hand and offers you his parking place. A man's man. Everybody loves this man. You go that direction so that when you peel off the layers, and there are many layers, you get down to really what he is, that you realize Oh my God this is a man who cannot be trusted and yet you did. You immediately want to trust this man and you immediately want to be embraced by this man because he's such a charismatic, nice, kind, handsome wonderful person to be around. And you realize HE'S NOT. And that's what's really frightening about the character. I think it's interesting that Sondheim, with the lyrics and Hugh Wheeler with the book (script) really flesh that out, it's really a comment on the people in this world who live a double standard. They portray one thing and this hypocritical – he mentions something in the text "cuts across the throats of hypocrites." It's such a hypocritical character when you look at what he practices is not what he preaches. And he doesn't even know it.


JDR: When the play has ended and you are off stage, do you feel like you need a bath after playing Judge Turpin or are you able to walk away from him completely?
KB: Nah…you walk away. It's acting. (He laughs)
JDR: But for those of us who aren't in the theater world, we find it hard to imagine playing someone like this character. That's one of the reasons I wanted to talk with you, someone in the cast of SWEENEY TODD, so maybe you can help us understand this play and these people.

KB: We've had a few talk-backs with people in the theater and students and they ask that question a lot, how much of you do you bring to your character? Especially with someone like Judge Turpin or Sweeney who's murderous! And I find that to be a really great question because as an actor, what you have to do is, you have to go to that place in yourself that can identify with those ugly things. You have to do that. If you don't? Then you're going to get a very general interpretation of the character. So I had to, as an actor, go to those places within myself – that can identify with what is in Judge Turpin's head and I'm still going there and still fleshing it out and looking for new things. I was telling some of these students in talk-back that I've got to look, I've got to look at my own lustful nature. I've got to look at my own compulsive nature. I've got to look at those ugly things that are a part of my life that I experience and really delve into it – really let it come out and explore it. You can't just look at it and say he's a compulsive, lustful character. You've really got to look at it yourself and how I identify with those particular negative, if you want to call them negative, traits. Not just the positive traits, but the negative traits, you've got to look at them in yourself. That brings it more to the front, so it's more of an expression of things that you have experienced yourself as well.
JDR: I believe you have a preteen daughter yourself.
KB: Right.
JDR: By the math that's given to us in the play when Sweeney's sent away, Johanna is one year old.
KB: Johanna's sixteen (in the story).
JDR: The story is set back in the late 1800s and it was not unheard of for young women of that age to marry. So, we are looking at a character who is just a few years older than your daughter in real life. Does that bother you?

KB: No, it doesn't, but it's one of the things that I had to look at. It's one of the things in my life that I had to look at and wonder what it would be like for a man my age to lust for and pursue a young woman who's only a few years older than my daughter and it was something that I was able to look at because I've got a daughter who's not far from that age. So there's my point. You've got to look at your own life and deal with what you can with the process of fleshing out this character with what you can. That was one of the things that I was able to look at. What's really interesting is when I do the role from night to night, for instance the other day we did a matinee show for nothing but high school kids. And as I started into the scene, the one scene where I try to seduce my ward (Johanna) -I suddenly as the scene started, I suddenly became terrified. I was terrified. I was on the verge of tears also, doing a scene because I realized oh my God what I'm about to show these kids...some of them out there are actually experiencing right now. And I felt really because I knew I was probably churning up some terrible things in some kids out there. I felt very responsible for that. After the scene was over and we came off of intermission I told the stage manager how uncomfortable I felt doing it to that audience and he said "But Keith, you are communicating something to those kids that needs to be communicated." I said that I don't know about that. Do I really want those kids to have to feel that again? I'm not sure.
JDR: Could you see or feel any reaction from the audience?
KB: No, of course we can't see the audience, but I'm sure it was very uncomfortable for some of those girls out there in the audience.
JDR: There have been and are several versions of the play. Some of them have removed or skirted around Lucy's rape by Judge Turpin. Does that scene take place in your version of the play?

KB: It's not removed, but it's not acted out, the story is told through the narrative,
JDR: Can I ask if the Judge's self flagellation scene is in your John Doyle version?

KB: It's in, but there's no flogging, I do an indication of it. It's really not about that.
JDR: There's a piece of music that happens in that scene…

KB: It's called the Mea Culpa and that's in. I do the Mea Culpa, I do the song and I do the text. What's beautiful about John Doyle's production is that you don't have to.…he's stripped away a lot of the visual reenactments. He lets the words do the work, so it's still there. And it's still in the character.
JDR: Good, I think it's an important part of the scene, the audience has to hear him say those Mea Culpa words.

KB: Oh yeah. You can't eliminate it, the lyrics are very important…they are incredible lyrics. Actually Sweeney Todd was the first musical I ever saw.
JDR: When a friend heard that I was going to be able to speak to you for JDR, she wanted me to ask a question.
KB: Sure, go ahead.
JDR: Keeping in mind that we are really anticipating the Depp version of Sweeney Todd, this question has more to do with film rather than live theater. Once a film has opened there is no altering it. When you do live theater do you find that you the actor are affected by the vibrations or feedback that you get from an audience? How does that help or hinder you?
KB: Absolutely you feel it. I never find it hindering me because what's beautiful about live theater is that you need to feel that. If you are NOT feeling that it's not because the audience isn't giving it. If you're not feeling it, it's because you are not open to be receiving it. So if I get to a show where I realize I'm not getting anything from the audience I realize it's not the audience's fault. It's mine. And what I need to do is listen and that's the beauty of live theater, if you're really listening to your other actors and you're listening to the energy. When I say listening to the energy, I don't just mean aurally, I mean really being in tune with the energy you're getting from your fellow actors and the energy you're getting from the audience. If you're really doing that it will affect your character, it will affect your performance in a positive way. It will cause you to do things or not do things, and whatever those things that you are doing...is in direct relation to the energy that you're getting back and forth. And sometimes it will be interesting stuff and some times it won't, but as long as you're open to it? It will always be something! As long as you're open, as I call it, you will sometimes strike gold, something will happen that you didn't see coming. And that happens because as an actor you were in tune with the energy you are getting as an actor from the audience and with the energy you are getting from your fellow performers.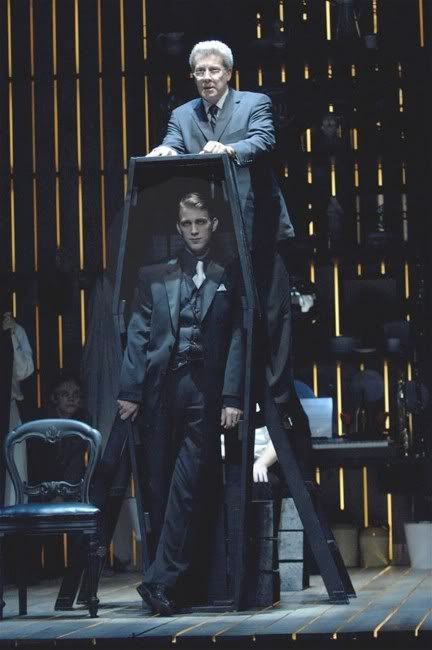 Photo by David Allen
JDR: Being Depp fans, the one remark we hear from Depp's costars, crew members and directors is the same thing that you've just shared here. That you have to be open and react to your fellow performers. I believe I read somewhere that Sondheim said that (and I paraphrase) once actors go before a live audience that they then bring the audience in as a third person. That things change and you have to start readdressing what you are doing.
KB: You always have to, with my performance and with the amount of film work that I've done, it's completely different and it's the same. That's one of the things that I love about live performance is that it IS so live. It IS right out there, but like you said with Depp – and you see it in his performances. If you're not really communicating with the person you're talking to, if you're just doing your lines with a preconceived notion of how they should be done, it's dead and it's a very obvious thing that Depp is a pro at that, to be able to make each take…each take is going to be different provided the person is really feeding you the lines, that you're really having a conversation. It's just that the feedback is more immediate in live theater than in film and that's what I like about it.
JDR: Can we talk about your background a little bit? As we've said, you've done three Sondheim shows and COMPANY won the Tony last year for Best Revival. You've played both the Phantom and Raoul in PHANTOM OF THE OPERA on Broadway and in the National tour. You did THE KING AND I, Ravenal in SHOWBOAT and PASSION as we've already touched on. You've done some opera, some regional things, some films. As an actor with a lot of different kinds of characters, do you find yourself drawn to a particular kind of character? If all things were equal, and you didn't have to look at the money or convenience in playing a role…what role would attract you the most?

KB: I would go for the role that allows you to stretch in the most, that would allow you to explore the most facets of a character.
JDR: Would that be one reason why you chose to accept this tour? I know you have family at home while you are on the road for several months.
KB: Yeah, it's a great role! It's an incredibly complex role. I'd choose the most complex character. It's like chewing up scenery, that's one of the reasons Phantom was such a great role, he's so complex! You go to every emotional precipice that you can think of. The same is true in many ways of Judge Turpin.
JDR: Change of thought here, what intrigues you about Sondheim music?

KB: Oh so many things! I remember from day one when I started out and I was singing Sondheim a long time ago for some reason I just loved singing his music and when you try to figure out what it is, it's a combination of things, his lyrics are brilliant. Every time I do a Sondheim song, sometimes I find them easy to learn and sometimes I find them very difficult. Mea Culpa's one of the most difficult songs I've ever had to learn, ever.
JDR: Why is that?
KB: Because there is nothing general about it what so ever. It seems random and that nothing fits into a pattern and nothing does, then as you work on it and sweat over it you finally figure out there IS a very subtle pattern to it – there is a specificity to it that makes sense and once you lock in on that? It's like oh my God, of course, that's the way it has to be. BUT when you're first learning it, you can't get it, it's so complex. Then as you work on it and work on it. What I like about it is that all of his lyrics, all of his music is very specific. And you've GOT to find the specificity of it – once you do, then it locks in and it's almost like a stream of consciousness that his music has and once it comes tripping out on your tongue and you've learned it then you've found the specificity. And you realize that there's no other way that it could be. The only other writer/creator who does that with words is Shakespeare. After you do Shakespeare you're like of course, there's no other way to say it. It can only be said with those words, those words were right on the money. He'd probably be humbled and embarrassed if I said this to him but I find Sondheim's stuff to be very similar in that regard. It's incredibly specific. And that's what I like about it, it has a flow to it that makes perfect sense. I remember doing a Sweeney Todd review, like a cabaret show way back when I was down in Miami…it was two hours of Sondheim material and I remember having to cram it in in fifteen days and learn it. I remember sitting in a room eight hours a day going over (it) and learning, learning, learning. Some of the Sondheim stuff came so easily because it just happened to fit my speech pattern and fit my speech sensibilities other numbers didn't and therefore took me forever to learn. So once you've learned Sondheim material, at least for me, it trips off the tongue, very easily-very easily, it's very singable, makes perfect sense and just goes (insert singer making rapid clicking sounds with his voice LOL). And that's what I love about his stuff.
JDR: I think of Sondheim as a wordsmith.

KB: He's an incredible wordsmith and also an incredible musician, and the way he combines the words and music is brilliant!
JDR: One of the reasons I wanted to talk with you, someone in Sweeney Todd right now, is that there is a whole group of people who will be seeing YOUR national tour show of Sweeney Todd as background for the Depp/Burton film and as a guess, I'd say a majority don't know or didn't know this musical before the Depp project was announced. They don't know Sondheim's work either.


KB: Well, it's the medium too. With a film, you can have multiple millions of people seeing it, when you talks about musical broadway you can reduce that audience tenfold, maybe more. It's the nature of the media.
JDR: Many Depp fans have never seen a musical of this kind, and many have never heard Sondheim music before. A class where Sondheim is teaching a young actor to sing "My Friends" surfaced and we were all enthralled with what actually went into learning to sing a song. This is why I wanted to be able to have someone from the National tour speak to us. The lyrics of the song are the equivalent of dialogue in a play.

KB: Yes and it all comes down to whether the story is told. It will be up to Tim Burton and his direction. The story is there in the lyrics, Hugh Wheeler and Stephen Sondheim fleshed that out. It's got it's problems, Act II has it's problems, it's hard to follow in some instances because it is so complex. It's the ability and where with all for someone to be able to tell a story. A great story teller can take this material and tell a story. Tim Burton is a story teller. I'm looking forward to it, my expectations are really high.
JDR: What is your run time, subtracting intermission?


KB: 2:15, maybe 2:20
JDR: Sondheim was quoted as saying that the movie will run about 1 hour 45 minutes. Do you think things will be cut or shortened and still tell the story?

KB: Yes, I actually talked to Sondheim and talked to him about the movie. I asked him how it went over in London. I mistakenly said to him "How did it go with the rewrites?' He said "Rewrites? Rewrites? REWRITES?" as if I had insulted him. "You know what I mean" I said laughingly, I asked him "what kind of changes?" He replied that things had to be shortened to work with film length.
JDR: Sweeney Todd's been around since 1979 and people keep showing up to see it. You've got this new John Doyle Tony Award winning production. 30 years after the original production it's a movie. It's gruesome, it's dark, it's bloody. What makes in intriguing to audiences still?

KB: It's a fascinating story! Really when you stop and think about it, what makes anything great is a great story! Then you take the music, which is incredible, that's married to a great story, a great book so you take those two elements and…BANG! You've got a masterpiece!
JDR: I've heard people make a comment over and over about Sondheim's works, Sweeney Todd, Into the Woods, Assassins …that they are "typical Sondheim." What do you think that means? Typical Sondheim?

KB: It's not fluff. I think that's what they are saying. If it's "typical Sondheim" it sure isn't going to be fluff, is it? It's going to be intelligent and it's going to make the audience think. It might be dark humor, it might be uncomfortable, but it will be insightful. I think that's what they are referring to. And I'm glad it's not fluff, I find him incredibly humorous, amazingly insightful, he gets right to the nitty gritty and sometimes it's hilarious, sometimes it's ironic and sometimes it's incredibly sad, but it's never uninteresting.

JDR: If you could play any one Sondheim role, who would it be?
KB: Well Sweeney, obviously. Or George, from Sunday in the Park with George.
JDR: Are you happy with the show?

KB: I've been with the show for two months now and I am not even close to figuring it out. It's a daily discovery for me and that's what I love about it.
JDR: Do you think the other cast members are having that same sense of discovery?
KB: Yes, even the ones who were with the Broadway version of it, they're coming up with it, they've been with it nine months on Broadway and another two months now. I still think they're finding new stuff because that's just the nature of it. That's what makes doing this kind of work fun. When you stop finding new stuff it becomes a tedious bore.
JDR: Your role as Judge Turpin is being played in the film by Alan Rickman...

KB: Which I can't wait to see. I adore his work, I can't wait to see how he went after this character.
JDR: I have to ask this because we are Johnny Depp forum. What do you think about Johnny playing Sweeney?

KB: There's a part of me that would say it's completely miscasting and a part of me that would say it's dead on. I think that's just the beauty of Johnny, the man, God bless him, is one of those actors who can do just about anything. And that's what I love about him, so when I see him cast in a role and I go "huh?" and then I think "of course!"
JDR: Good actors seem to seek out parts that make them stretch. That's what you've done with Turpin, you've had to stretch out of your comfort zone.
KB: That's one of the drawbacks about doing film. You've got to do your research way ahead of time, before you do your performance, so in a certain sense when you are doing film work you are really working before the film, and then you lay down your performance and it's a wrap and that's all the further that it goes. With theater you just keep doing it over and over and it gets more and more subtle and by the end of the run, provided you aren't checking out, you've got an incredibly fleshed out character, which you can't do on film…unless you are spending months before the filming preparing. Which good actors do!

Sondheim makes it so easy for the actor/singer that what he puts down on paper, once you've figured out the complexity of it, it is easy. He makes it easy on the actor. That's what I love about Sondheim material, because it's so natural for me and to many other actors too.
JDR: What advice can you give to some one seeing your play or the movie:

KB: Go into the theater awake! Don't zone out as you do with so many movies. Wrap you brain around the show. The audience has to participate.
JDR: This has just been a pleasure, to have you sit down with us and share your thoughts about Sweeney, Sondheim and the Judge. We thank you so much for giving so generously to us. Thank you…
KB: My pleasure
JDR: Whenever our JDR people come and see your show, could they get their programs signed by you afterward?
KB: Sure, absolutely! Come to the theater and make lots of noise.
****************
National Tour site
www.sweeneytoddtour.com/index.html
Check for a town close to you!
www.sweeneytoddtour.com/route.htm
So, when you all go, if you have a chance, go to the stage exit and wait politely for them to exit, and when you ask Mr. Buterbaugh to sign your program be sure to tell him that you read his interview with us here on JDR! Please let him know that we appreciated his time and also his performance!
Photo of Mr. Buterbaugh used with permission.
Photos from the SWEENEY TODD National Tour credited to David Allen, used with permission